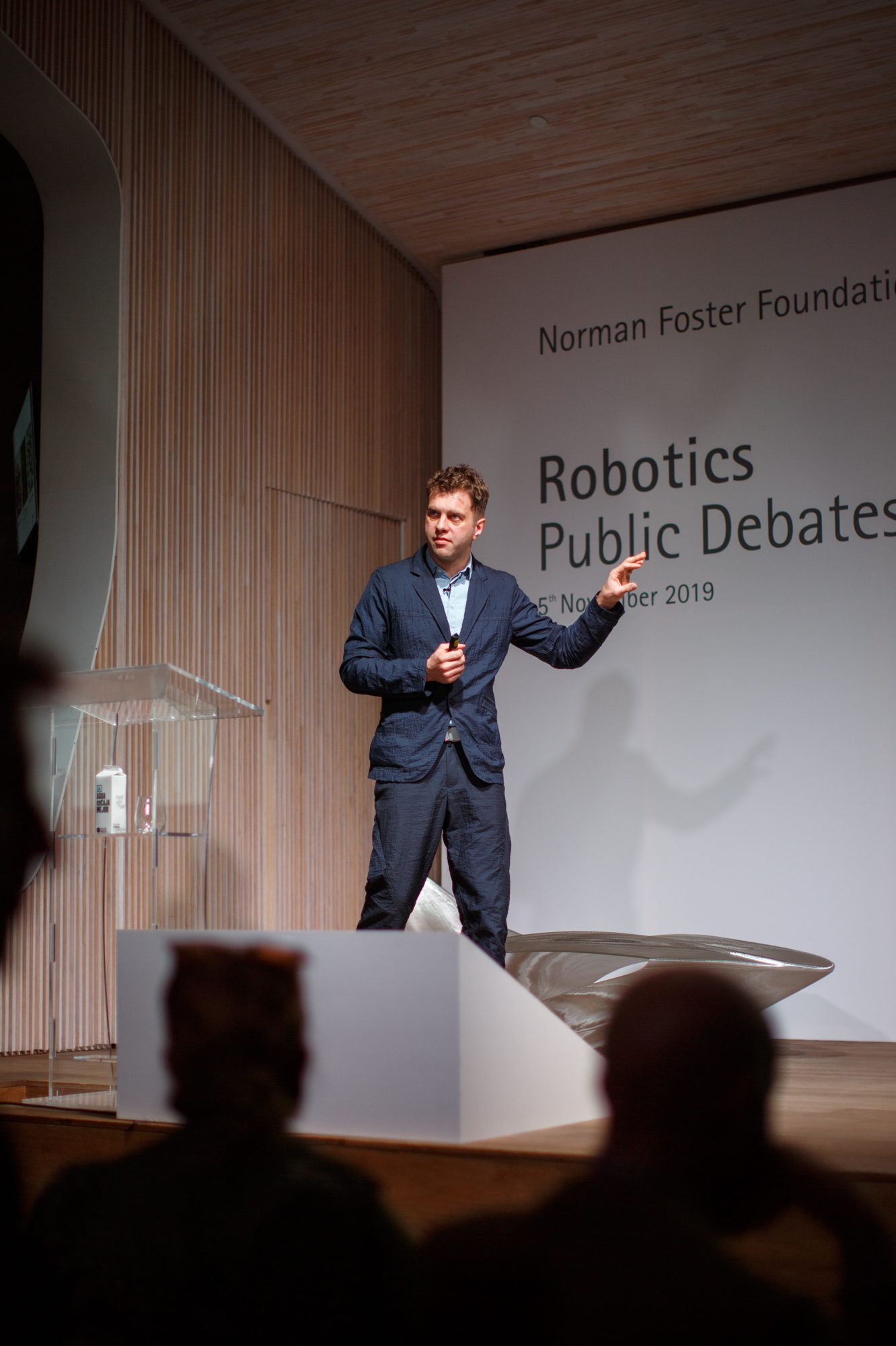 Robotics Atelier 2019 – Public Debates
The Robotics Public Debates explored how technologies, robotics and artificial intelligence will shape the future of architecture.
Xavier de Kestelier, this year's Robotics Atelier Mentor and the Principal and Head of Design, Technology and Innovation at HASSELL Studio (London, United Kingdom) introduced the third edition of the Robotics Public Debates organised by the Norman Foster Foundation in Madrid.
Kestelier's interests in designing long-term habitats in outer space and his belief that architects have a crucial role to play in the design of any future settlements on Mars and the Moon have led him to explore 3D-printed structures capable of protecting astronauts from solar radiation, meteorites and extreme temperatures. As Xavier de Kesteiler points out: 'over the past ten years, designers have been teased by the potential applications of 3D printing. Anything from 3D-printed cars to violins; 3D printing has been proclaimed to be the inception of the Fourth Industrial Revolution. Although 3D printing has been a major disrupter in medical sciences, mechanical engineering and to certain extent consumer products, it could be argued that its true impact on the architecture industry is yet to come.'
Experts in various fields related to manufacturing and digital fabrication participated in this year's public debates. Among the contributors were: Philip Beesley, Director of the Living Architecture Systems Group (Toronto, Canada) and professor at the University of Waterloo (Waterloo, Canada) and the European Graduate School (Visp, Switzerland); Adrian Bowyer, founder and Director of RepRAp Ltd (Nootdorp, The Netherlands); Anna Dyson, founder and Director of the Yale Center of Ecosystems in Architecture (New Haven, United States); Claudia Pasquero, co-founder of ecoLogicLab (London, United Kingdom); and Manuel Jimènez García, founding partner of Nagami (Ávila, Spain) and co-founder and principal of madMdesign (London, United Kingdom). Tim Stonor, managing director of Space Syntax (London, United Kingdom) chaired the 2019 Robotics Public Debates.
The first block of Public Debates included a conversation between Xavier de Kestellier, Adrian Bowyer and Manuel Jiménez García and focused on debated whether it is technology that must adapt to the needs of its users or users that must change to meet the demands of the technology they use. The second block of debates featured a conversation between Anna Dyson, Philip Beesley and Claudia Pasquero that centred on exploring how 3D printing can be a tool that allows architecture to integrate with human and biological ecosystems.
The Robotics Public Debates explored how technologies, robotics and artificial intelligence will shape the future of humankind. In line with the Norman Foster Foundation's mission, the debate centred on how we can make use of new technologies to help new generations of architects and designers anticipate the future while better serving society through interdisciplinary thinking.